Paul Millsap and Dwight Howard looks like an excellent front court duo on paper. The two looks to be on par with the upper echelon frontcourt pairings of the league. However, what looks good on paper doesn't always translate to reality. So how might these two function together and will it be able to work?
Defensively, this pairing has the potential to wreak absolute havoc on the rest of the league. Dwight Howard is one of the best rim protectors in the game when he's locked in.  Howard can protect the rim out of defending pick and rolls, post ups, and by quickly rotating from the weak side. Howard consistently ranks toward the top of the league in Rebounds. Not once in his career has he recorded anything less than double-digit RPG—proving to be one of the league's best glass eaters. Howard's relentless effort on the boards will create a lot of second chance opportunities to score which is something the Hawks have struggled with.
Howard is a significant piece to this pairing but Millsap is the one that is actually driving this defensive freight train. Millsap finished last season ranking top five in all major advanced defensive statistical categories including defensive box +/-, defensive win shares, and defensive rating. Millsap impressed on stat sheets but also passed the eye test as well. Millsap might have the fastest hands in the league among all big men. If Millsap hosted a class teaching all bigs on how to perfect the rip steal—there wouldn't be an empty seat in the room. Millsap's ability to swipe the ball away from his man before he can even blink is one of his best defensive attributes.
The concerns start to creep in when you factor in how these two fit together offensively. Millsap is a swiss army knife, spring-loaded with a multitude of ways to score. Howard on the other hand, doesn't have anything close to the offensive versatility that Millsap possesses. The bulk of Howard's offense comes from dunks and tip-ins. Howard clogging the paint could cause spacing issues, meaning, Millsap might be spending more time around the perimeter than he's comfortable with. He won't be content with getting the Kevin Love treatment so Millsap and Howard need to find ways to operate in the post together.
Adding a few high-low sets to coach Bud's offensive scheme might be a good approach to get Millsap or Howard more scoring opportunities and feeding off of one another. Including more pick and rolls in the high post with Millsap as the ball handler and Howard as the roller could work. If executed properly, Millsap can set up Howard with a bounce or lob pass at the rim for an easy dunk like he does here with Horford.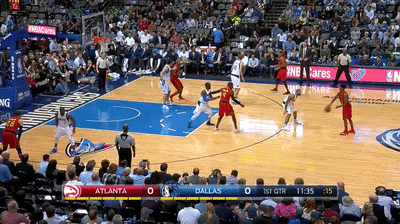 Millsap recently shared his thoughts on how Howard's presence will affect the offense. "Offensively, we have a consistent roll guy, a guy who can put pressure on the basket every time you set a pick and roll," Millsap told the AJC. "He's a guy you have to pay attention to down low. We are hoping, and I think everyone sees the vision, of the court opening up. A lot more open shots. A little more physicality. Things that we needed to get better at, I think we have." Millsap seems to believe that Howard's presence will generate more open looks. If the Hawks plan to capitalize on those open shots, Howard needs to improve his ability to pass out of the post as well as being able to pass out of double teams.
The jury is out on whether Millsap and Howard can coexist. One factor to look at it might be Howard's role in the offense. Howard's role will be the key to Millsap's production next season. If Coach Bud wants Howard to be at the helm of the offense, expect Millsap's shot attempts to plummet. If Budenholzer can convince Howard to be a third or fourth option on offense, then Millsap's production shouldn't waver. The Hawks have set themselves up with a terrorizing front court but it will be up to Coach Bud to get the most out of this dynamic duo.