It is official now. We can officially tell you that the Hawks have Cap Space and have utilized it. We also know the Hawks are Hard-Capped at $80.829 million.
Danny Ferry's motivation for a Thabo sign-and-trade.
Cap Update
As Jason Walker has already mentioned, Thabo Sefolosha is officially an Atlanta Hawk via a sign-and-trade with the Oklahoma City Thunder. The deal involved the Hawks sending the draft rights to Sofoklis Schortsanitis for Thabo Sefolosha, the draft rights to Giorgos Printezis, and a reported $550,000. Because the Oklahoma City Thunder are over the Cap, this move generated a Traded Player Exception (TPE) for the starting Salary of Thabo Sefolosha ($4,150,000). Because this was a sign-and-trade transaction, the Hawks need one of two things to complete this. Either a TPE, which they do not have, or Cap Space. As we have already detailed, the Hawks potentially had a Team Salary of $62,207,654 because of various capholds. So the Hawks needed to clear the requisite Cap Space to acquire Thabo and thus they renounced their Non-Taxpayer Mid-Level Exception and Bi-Annual Exception1. We also know that the Hawks become Hard-Capped since they acquired a player via sign-and-trade.
The TPE from this trade allows the Thunder to exceed the Salary Cap by $4,150,000 in a future move(s). The Hawks did not give them this as no team in the NBA can give a TPE, the exception occurs because a team decides to classify a trade as a Non-Simultaneous Trade. This allows a team one year to replace the salary they sent out in a trade. Sometimes this is useful, but other times teams never utilize this TPE and they expire after a year.
Updated Team Salary
We can now update the Team Salary list that we have been putting up for the last few articles on the Cap:
Al Horford

$12,000,000

Paul Millsap

$9,500,000

Jeff Teague

$8,000,000

Kyle Korver

$6,253,521
Thabo Sefolosha $4,150,000
DeMarre Carrol $2,442,455

Dennis Schroder

$1,690,680

John Jenkins

$1,312,920

Pero Antic

$1,250,000

Mike Muscala

$816,482; $408,241 guaranteed and fully guaranteed if not waived before January 7th

Adreian Payne

$1,546,100 (can sign between 80% and 120% of this amount)

Shelvin Mack

$1,148,163 (caphold for Qualifying Offer)

Mike Scott

$1,115,243 (caphold for Qualifying Offer)

Gustavo Ayon

$1,950,000 (caphold)

Elton Brand

$4,800,000 (caphold)
Exceptions (do not count for incomplete roster charge):

Bi-Annual Exception $2,077,000
Non-Taxpayer Mid-Level Exception $5,305,000
Room Mid-Level Exception $0 (worth $2,732,000)

John Salmons Guaranteed Salary $1,000,000 (Zombie payment, he's not on the team)
With all of the above, that puts the Hawks at $58,975,564 in Team Salary. That implies Cap Space of at least $4,089,436 for this team, given the Salary Cap of $63.065 million. The Hawks can always clear up Cap Space by renouncing anything from 10 -- 15 in the above list, so they can create a maximum of $13,535,175 in Cap Space. This is not likely to happen.
The most likely scenario is that the Hawks renounce Elton Brand and Gustavo Ayon and leave everything else the same for the time being. This implies the Hawks have $10,839,436 in Cap Space.
Bazemore Moves
Mr. Bazemore is all business.
There are more moves available for the Hawks. In particular, we know that the Hawks will eventually acquire Kent Bazemore on a contract starting around $2 million. At this moment, there are only three methods of acquiring Kent and two are redundant.
The most intriguing way for the Hawks to sign Kent is with the Room Mid-Level Exception. This would arise if the Hawks used up the rest of their Cap Space, which could be as high as $13,535,175. Clearly, those interested in the Hawks making a major move would prefer this method.
The redundant ways of the Hawks acquiring Kent both involve the Hawks absorbing his contract with Cap Space. The Hawks could outright sign Kent Bazemore with Cap Space, which would not involve the Lakers at all. Also, the Hawks could acquire Kent via a sign-and-trade transaction with the Lakers. Under realistic assumptions, this would require the Hawks to use Cap Space. Potentially, the Hawks could make a large series of trades that eventually end with them having a TPE of around $2 million. This is unrealistic, but if this were the case then the Hawks could acquire Kent through a sign-and-trade and not have to use Cap Space.
In any event, it is only a matter of time until Kent is officially announced as a part of the Hawks.
Acquiring a Boozer?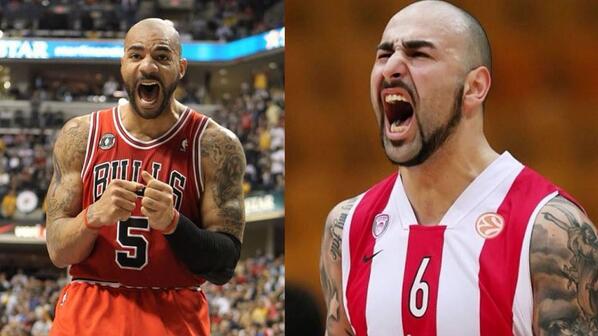 Twins?
Ever since it was announced that the Chicago Bulls were amnestying Carlos Boozer, there have been some rumblings about the Hawks could put in a bid for him. And from this, there have been some confusion as to how this process operates as well as the possibility of the Hawks submitting a bid.
The amnesty process for the NBA works very similar to the waiver procedure, with a few exceptions. There are two different claims that a team can make on a player that has been waived using the amnesty provision. The first is a full waiver claim, which is where a team claims the entire contract of the amnestied player. If more than one team puts in a full waiver claim, then the team with the worse record is awarded the player. Currently, only the 76ers and the Suns could take on Carlos Boozer's $16,800,000 contract.
If no team puts forth a full waiver claim, then the NBA moves on to partial waiver claims. This is where teams actually submit a bid for the right to acquire the services of the amnestied player. The team with the highest bid is awarded the amnestied player. In the highly unlikely scenario that two teams bid the same amount then the amnestied player is awarded to the team with the worse record. One important aspect of a partial waiver claim is that a team cannot trade an amnestied player they acquired through a partial waiver claim for an entire year. For Boozer, this means that he cannot be traded which severely reduces his value to a team.
At this moment, this becomes an intriguing situation if you believe there are multiple suitors for Carlos. Mark Deeks recently profiled the number of teams with Cap Space left this offseason. Suffice to say, the teams with more than $2 million left in Cap Space are potentially the Hawks, Rockets, Lakers, Bucks, Magic, 76ers, Suns, and Jazz. This appears to be enough teams in order to make a competitive bid process for Boozer. If there were only a few teams available, then this may be an interesting game theory situation whereby the Hawks would be interested in only bidding $1 more than their competitor. With up to 8 teams, it becomes harder for Danny Ferry to read the field and submit a Price is Right style bid.
---
1. This was not the only way the Hawks could have cleared Cap Space. Alternatively, the Hawks could have renounced Elton Brand and his $4,800,000 caphold to clear enough room to acquire Thabo. This would have left the Hawks with the NTMLE and BAE and the Early Bird Rights to Ayon, Mack, and Scott. If the Hawks were interested in resigning or sign-and-trading Ayon, Mack, or Scott and did not value Elton Brand, then this was surely an error as the Hawks could have more available to spend in this scenario. It is not likely this was an error, so the Hawks still value Brand and/or are not entirely interested in resigning or sign-and-trading Ayon, Mack, or Scott.↩