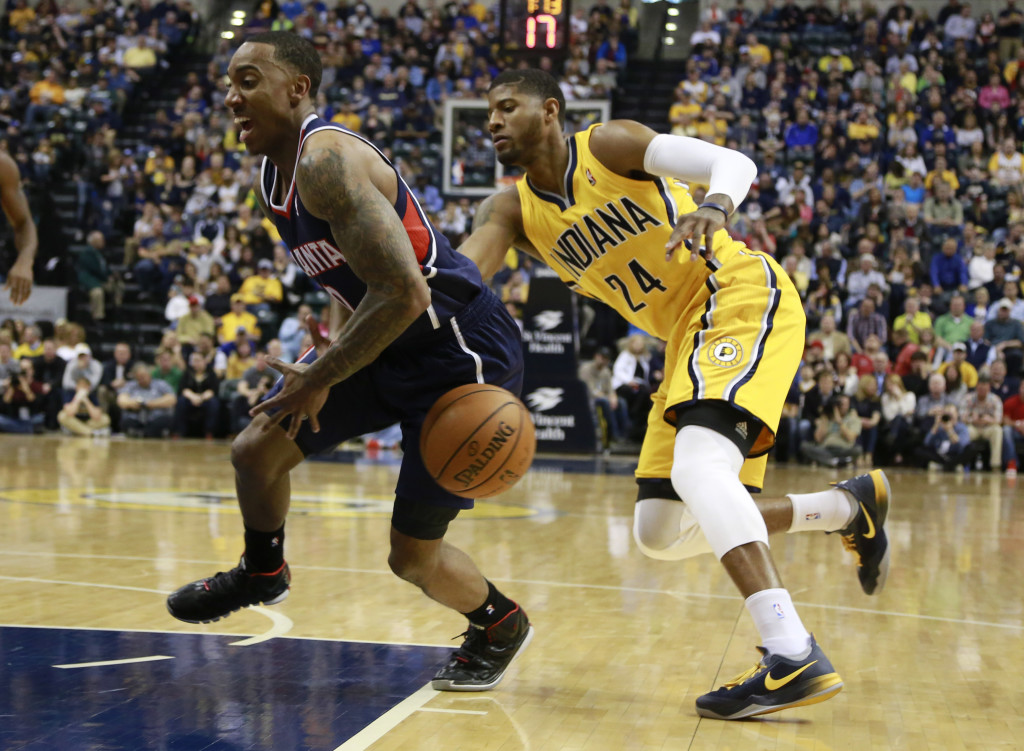 Paul George will turn up just like everyone else who comes to Atlanta.
The Atlanta Hawks made the NBA playoffs for the 7th straight year. It's a great thing for the front office. They have also won 7 of their last 10 games. It could have been 8 if it wasn't for a last second Charlotte Bobcats bucket by a guy with three first names. As the last team in the Hawks get pleasure of seeing the Indiana Pacers, who have more drama than a baby mama right now. Paul George already got exposed online one time this season via tumblr. He might as well been on the tape with Mimi from Love and Hip-Hop Atlanta. Lance Stephenson still salty about missing the all-star team. Now he's the 8th Grader full-time. Evan Turner looks like a step brother that replaced Indiana's real brother. All this extraness (proprietary term) that Pacers have in the locker room could be a result of mental and physical fatigue. They wanted that #1 seed so bad they wore themselves out. Going balls to wall so early could cost them. In contrast members of the Miami Heat were taking nights off on a regular basis. Maybe the Pacers should have I don't know set a pace? If you were taking a night off where better than the A-Town?
I had a talk with a few homeys and they feel like the Atlanta Hawks will challenge the Pacers and maybe take it to 7. I'm thinking more 6. That recent UFC style beating Atlanta put on them gives fans irrational confidence that would make J.R. Smith jealous. We agree on one thing, the fact that the Atlanta nightlife is irresistible to a group of young guys that have spent the better part of the last 6 months in Indiana. Ask Jalen Rose we're top 2 in the City Power Rankings.
But why go through the trouble? I know some Hawks fans like the idea of making the playoffs every year but how does that help the team winning a championship next year? It's obvious that they won't do it this year. I have been recorded saying I'm 'bout dem' ping pong balls if Atlanta wants to leave the land of the mediocre. It was like a blessing in disguise when Al Horford got hurt. By letting go of Joe Johnson and Josh Smith on back to back years, it was telling of what direction the Hawks were headed. Paying Kyle Korver is cool to have when you a couple of guys who demand a double team. Paul Milsap? I don't how you should feel about him being your first option but I know that's due to injury. Jeff Teague is not that guy. To me with some elite talent he probably could play the "Mario Chalmers role". I looked into some of the point guard performances versus the Hawks and it wasn't as bad as I thought. Atlanta gives up the seventh most assist per game to point guards1 due to the fact that they have trouble switching and fighting under or over screens. Regular on ball defense is not bad but when playing point guards but you can't get your lunch ate by a pick and roll monsters. The birds are 0-4 vs Golden State and San Antonio and if you know basketball then there's no further explanation needed. I will break down the Hawks needs more after this short post season run is over and the draft is coming up.
From DaRundown.com